Brand: TILO
Made in China
Configuration: D65, TL84, F, UV four light sources
Weight: 28Kg
Dimensions(WxDxH): 710x405x570 mm
T60B color light cabinet is equipped with 4 light sources. Colors appear differently under different lighting sources. To avoid/reduce the assessment error when performing color contrast, we can make use of a Light cabinet / Viewing Booth/Color Light Box to simulate different light sources to obtain an objective assessment of color and color difference, anytime, anywhere.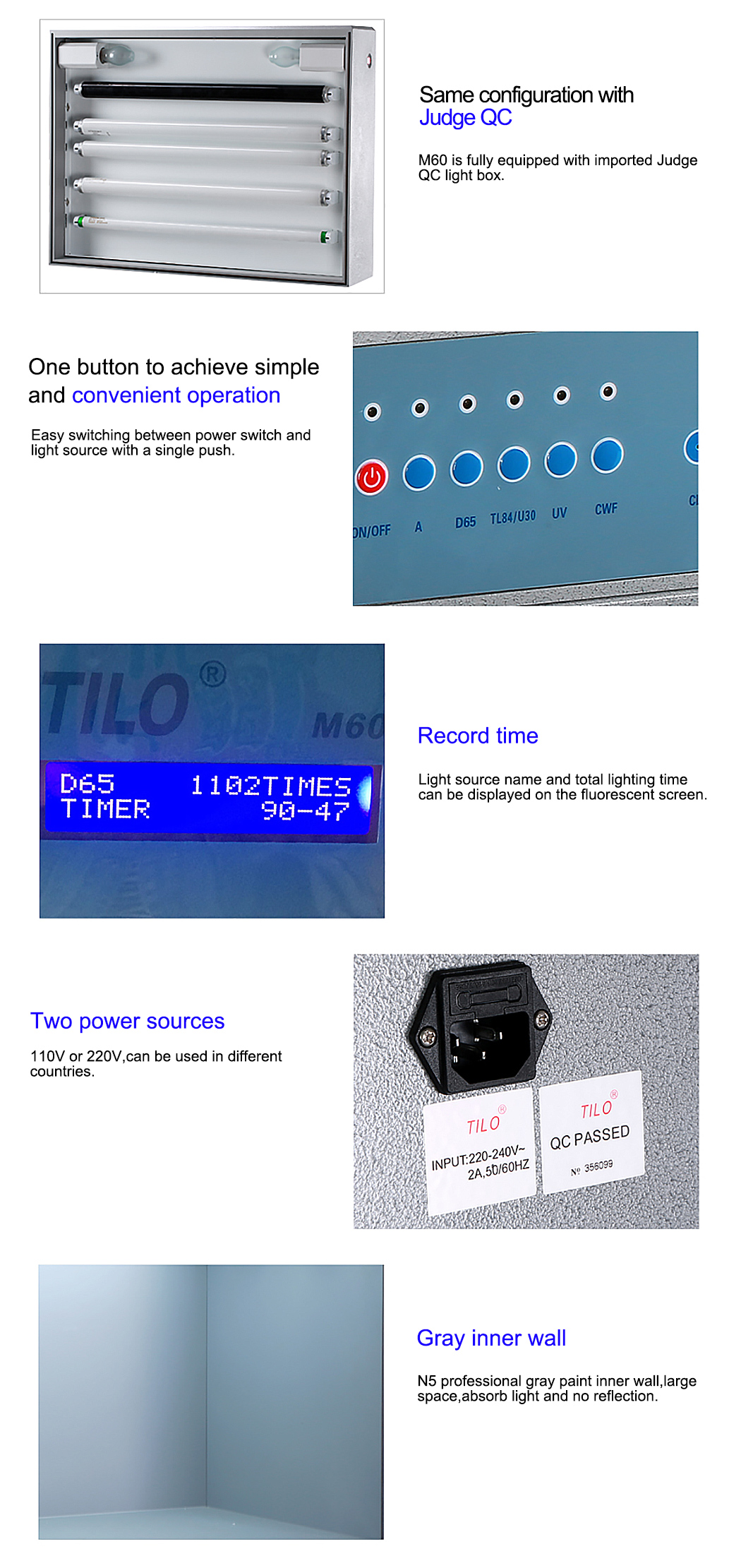 Features:
---
1. Display usage time, name, and number of switches for each source
2. Automatic switching of light source with metamerism
3. No warm-up, no flashing, fast and reliable evaluation of colors
4. Low energy consumption, no heat dissipation, high luminous efficiency
5. Original British CAC60 type lamp, the background color is fully compatible
6. TILO high standard international brand.
Application:
---
The Color matching booth/ Colour assessment cabinet/ Color matching light box can be applied to the industries that need to perform color difference testing as follows: as the premiere designer and manufacturer of color viewing and lighting products for the Graphic arts, Photographic, Textile, Dyeing, Packaging, Printing, Leather, Inks, Knitwear, Plastic, Automotive and Ceramics industries.
Specifications:

| | | | | | | | |
| --- | --- | --- | --- | --- | --- | --- | --- |
| Order No. | Name | Model | D65 | TL84 | F | UV | Voltage |
| 10102 | Standard light source cabinet | T60B four light source(220V) | 2 pcs | 2 pcs | 4 pcs | 1 pcs | 220V/50Hz |
| 10802 | Standard light source cabinet | T60B four light source(115V) | 2 pcs | 2 pcs | 4 pcs | 1 pcs | 115V/60Hz |
Light Sources:
Light Source
Color viewing cabinet application
Color temperature(k)
Power(W)
Brand&Specification
D65
International standard Artificial Daylight
6500
20
VeriVide F20T12/65
TL84
Applied to stores in Europe, Japan and China
4000
18
PHILIPS
TL-M 20W/840
F
"Sun-setting Light Yellow" incandescent light source (imitation of sunset)
2700
40
(VeriVide)
Crompton
240V/40W
UV
Viewing under ultraviolet light to detect and evaluate optical brighteners or fluorescent pigments
Wave length:365nm
20
PHILIPS
TLD 18W/BLB